Striving to meet the printing needs of the University and the general public, Bellis Copy Center offers high quality color and black/white printing at a very competitive price. We also offer a wide range of services catered to meet almost every printing or finishing need.
Our Services
Printing
Collating
Stapling
Binding
Laminating
Cutting
Our lobby area provides work tables furnished with a paper cutter, hole-punch, staplers and other incidental office supplies as well as a Mac and PC available for use at $3 an hour.
Hours
Semester
Monday–Friday
8 a.m.–5 p.m.
Summer
Monday–Friday

8 a.m.–5 p.m.
Closed June 22–July 4
Contact Us
Phone
864-770-1300
Email
copycntr@bju.edu
Mail
Bellis Copy Center
1700 Wade Hampton Blvd.
Greenville, SC 29614
Location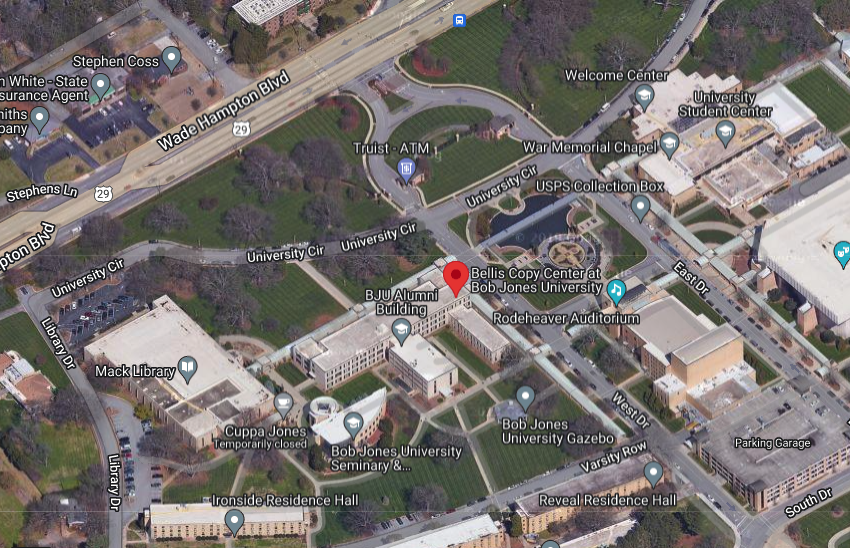 Located on the first floor of the Alumni Building, with 3 reserved customer parking spots along the right side of West Drive.
Additional parking is available in the Parking Garage, or any unmarked parking spot on campus.
Ordering
Copy orders may be submitted online or by delivering an original copy to be duplicated. If submitting an electronic file, PDF files are preferred.
Visa, MasterCard and Discover are accepted at the Copy Center.
Turnaround
The Copy Center attempts to run plain paper, single-sided or double-sided print jobs within 24 hours of receipt. Orders requiring document manipulation, reduction, special finishing, or special paper should allow a minimum of 48 hours.
Customers printing booklets for special events which require collating, folding, and stapling should allow a minimum of 72 hours.
Orders are printed in the order they are received. Multiple orders ahead of yours may mean that you will not receive your order on time. The Copy Center personnel will make every effort to meet your needs.
Please note: In addition to printing, there will be a $25/hr (minimum) charge when it is necessary for us to resize or reformat a document or file.
Paper Stocks
Black and white copy price is based on standard 20lb white paper, while the color copy price is based on 32lb smooth white paper. We carry a wide variety of paper stocks that you may choose from at an additional cost. Paper can be purchased separately per sheet or by ream.